Lakefront home with boat sauna

Size: 65 m2
Beds: 6
Bedrooms: 2
Sauna: Yes
Fireplace: Yes
Fridge: Yes
Boat: Rowboat
Pets: Yes
Smoking: No
Beach/Swimming: 5 m
Fishing: 5 m
Restaurant: 15 km
Shopping: 15 km
WiFi: 15 km (Library, ICA)
GPS: N 60.5319, E 13.6607
Photo Gallery
Click on any picture. Proceed by clicking on the right or left side of the photo to go forwards (⇒) or backwards (⇐).
Short description
Gorgeously located cottage in a mountain pasture. Quiet location directly on the lake Holmsjön, 20 km from the center of Malung (Dalarna). Distance from Stockholm 350 km, Göteborg 420 km, Malmö 710 km.
Dive from the pier into the lake for swimming directly from the plot.
Spacious roofed and window framed terrace, offering a 180 degree stunning view of the lake. Here you will enjoy your meals with spectacular views from the dining table.
The living-room has a sofa corner in front of the fireplace and magnificent lake view through large windows.
The bedroom has two single beds - easily rearranged into a double bed. And a window with beautiful lake views. Another 4+1 beds (two bunk beds + sofa bed) are available in the adjacent guest house. Here is also a large table around which the children love to play games. If you want to gather the family in the main building, two extra beds are available in sofa beds in the living room.
The kitchen is equipped with a LPG stove & oven, LPG refrigerator, kitchen-sink with drain.
A sauna building directly on the beach contains a wood fired sauna, a simple (camping) shower. No running water - the lake is within jumping distance. Also a small relax room with breathtaking views over the lake. Here you preferably take care of your personal hygiene - and jump directly into the lake after the sauna bath.
The boathouse has a wood-shed. Here is also two mountain bikes, row-boat and safety wests in adult and children sizes: Life jackets (1 x 0-10kg; 1 x 30-50kg; 1 x 50-70kg; 2 x 70-90kg; 1 x 90-120kg), Sailing vests: (1 x 60-80kg; 1 x 80-100kg).
Separate privy (outside dry toilet).

Optional motor for the rowboat
As an additional service, we provide a (preordered and prepaid) 5 hp outboard motor for the rowboat. With the boat engine you have the opportunity to extend your range within the lake system - larger fishing area. But also to reach the attractive public bathing area built on the docks with a relax building, a dining area, wood-fired sauna and a shower. Bring along your picnic basket, coffee, hotdogs/hamburgers etc. and enjoy a sunny afternoon on the piers by the grill. Not so well attended - often you will find yourself alone in this beautiful spot.
Availability & Seasons
The vacation home is rented to families and adults (25+)
Available May-September: Weekly (Saturday-Saturday)
During Mid- and High season (late June, July, August), the normal rental period is minimum two (2) weeks
List of current Availability
Always included: Firewood, LPG gas, loan of Rowboat and two Mountain bikes; Optional services: Outboard motor (5 hp)
Rates vary with the season. Request current Availability and Rate. Include information on the size of your family/group: # Adults/Children? Children ages?
Activities & Travel
Guestbook
Limited standard
The standard of the house is charming but primitive. The house lighting is based on candles and a 12 V solar system. An inverter, connected to the solar system, delivers 220 V with limited effect, however sufficient to operate vacuum cleaner, coffee maker and chargers for mobile phones.
Personal hygiene matters are preferably carried out in the lake. The toilet (privy) is of type outside lavatory.
For a successful vacation, you should enjoy outdoor life close to the nature in a unique location with beautiful views. The standard does not appeal to those who require comfortable city living.
At Lake Holmsjön, life style is "back to basics" - outdoor life style. You are no longer constantly online "the net".
Good fishing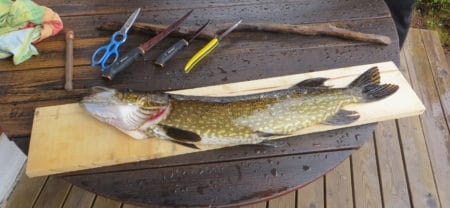 Good fishing opportunities in lake Holmsjön for perch and pike. Expect to also catch eel, whitefish and burbot.
In the area you will find many lakes, rivers and smaller creeks that house grayling, trout, char, pike and different whitefish like perch. In most lakes and rivers you can use whatever gear you like, such as fly rod, casting rod or a classic rod with a line and a float. There are also a few lakes, which are stocked with rainbow trout.
The river, Västerdalälven, is the heart of the whole area and here you can have fantastic fishing for grayling and trout in the streams. And of course it also houses sizeable pikes and massive amounts of different whitefish.
The fishing is easily accessible by the plentiful gravel roads that run through our countryside and forests.
Reservation